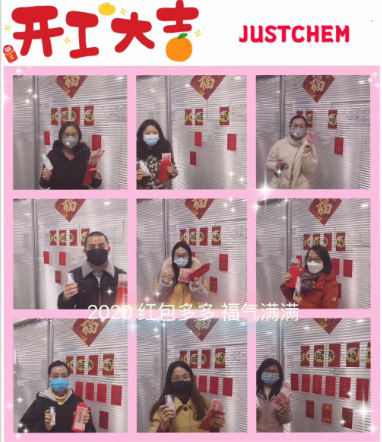 2020 is destined to be an extraordinary year. Affected by the new coronavirus, all companies in Shanghai have postponed work and only started to work on February 10. Faced with such difficulties, our colleagues are united and fearless. JUSTCHEM has begun to operate normally on February 10.
In the first two weeks, our company implemented a shift system. Considering that some colleagues lived far away, our company also adjusted the working hours to avoid commuting during peak hour. In addition, in order to protect the safety of each returning colleague, the company prepared adequate masks and hand sanitizers for everyone in advance; also we take monitoring measures, It's strictly prohibited for anyone to enter the office without permission.Colleagues working at home are also serious and complete work efficiently.
Knowing that we were suffered from the coronavirus and the lack of masks, our customer from Poland kindly sent us masks; and many other friends who care about Justchem also sent their greetings;in order to support the prevention and control of new coronavirus, our company also donated to Wuhan, hoping to make a modest contribution.
Everyone working in the office must wear mask. It becomes a beautiful scene of the company. Although our colleagues need to keep a distance because of the virus, our hearts are always connected. We hope that the epidemic will pass soon and then we can seek for greater success together.
---
Post time: Mar-02-2020